Fusion Fluid Equipment is a manufacturer of dynamic mixers, mixing accessories, and complete agitation systems for various processes for use in industrial and sanitary mixing applications. Whether you require standard or custom equipment, let Fusion Fluid confidently handle your projects ranging from simple to complex. Centrally located in Whitehall, MI, Fusion Fluid can provide custom agitation solutions with quick deliveries.
FUSION FLUID Mixers & Agitators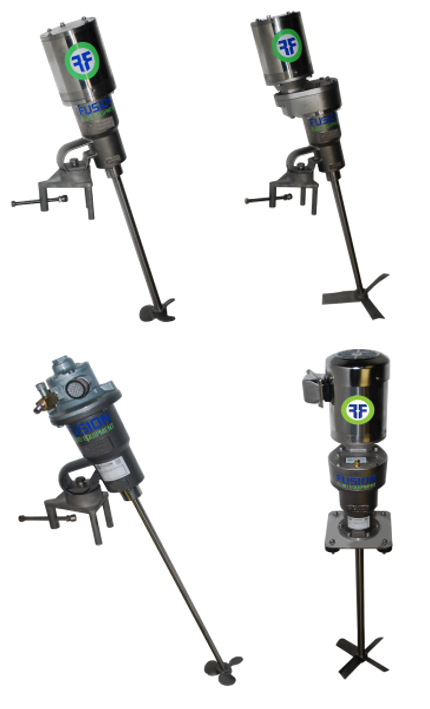 Pro & Pro Stainless Series
Lightweight, but rugged, this mixer series features a one-piece, investment- cast aluminum bearing housing with two oversize bearings for high performance and a long service life.
Sealed tank configurations can be achieved through the use of various Lipseals, High Pressure Stuffing Boxes, and assorted Mechanical Seals.
EXAMPLE APPLICATIONS
Chemical Processing
Petroleum
Ethanol
Biofuel
Industrial Blending
Industrial Mixing
Waste Water
Inks and Dyes
SPECS
Direct Drive: ¼ - 5HP 1150-1750 RPM
Gear Drive ¼ - 5HP 175-350 RPM
Batch: 5 to 3,000 Gallons
Shaft Length: Up to 120"FMB
Pro Series Mounting Options:
Cup
Clamp
Plate
Plate w/Angled Riser
ANSI Flange
TriClamp Flange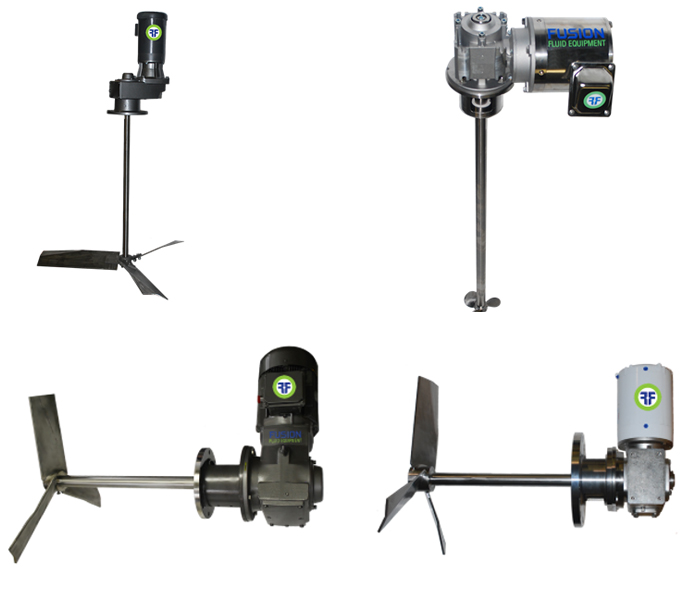 Flow Parallel Shaft & Right Angle Drive Series
Heavy-duty and extremely flexible, the Flow Series Parallel Shaft & Rigt Angle Drive mixers are designed to meet the needs of your large scale industrial, chemical or sanitary mixing applications.
Closed Tank configurations are available with vapor seals, stuffing box glands (up to 150PSI) and single or double mechanical seals (300+ psi).
In-tank shutoff mechanism allows seal changes on side entry mixers without emptying the tank.
EXAMPLE APPLICATIONS
Industrial Mixing & Blending
Large Scale Sanitary
Biopharma
Reaction Tanks
Low or High Viscosity Blending
Large Scale Wastewater
And More
SPECS
Gear Drive: ¼ - 100HP 3-400 RPM
Batch: 50 to 1,000,000 Gallons
Shaft Length: Up to 360"FMB
Flow Series Mounting Options:
ANSI Flange
TriClamp Flange
Beam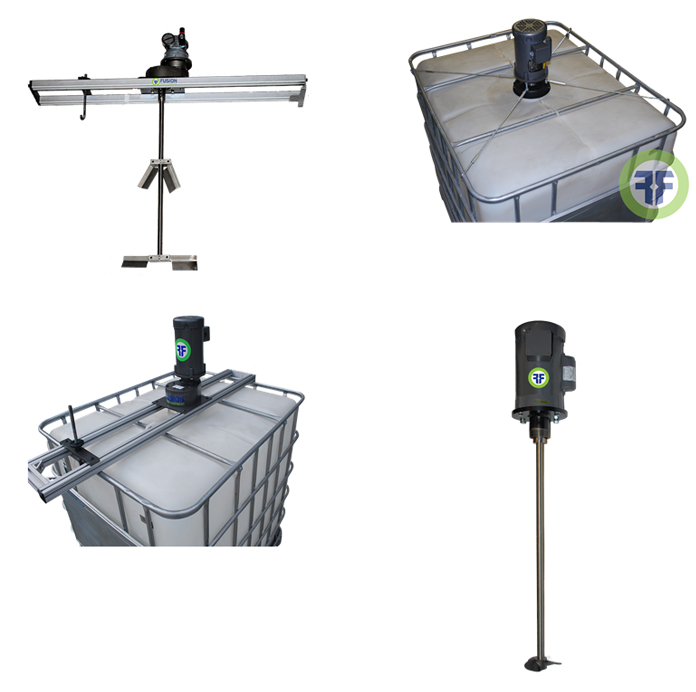 Drum & Tote Mixers
Fusion Drum & Tote mixers are designed for quick setup and enhanced portability while providing uniform drum mixing. Standard and custom designs are available to meet your needs.
Bridge Mount tote mixers offer an ultra robust platform for aggressive mixing. These attach across the top rails of cage style totes that are up to 52" wide, and can quickly and easily be moved from tote to tote. Cap Mount Tote mixers mount directly to a Schutz style 6" screw cap. Our tie rod mounting kit is included to provide additional stability.
EXAMPLE APPLICATIONS
Industrial Tote Mixing & Blending
Material Storage
Chemical Tote Mixing
Low or High Viscosity Batches
Subtle or Aggressive Agitation
Small Systems
SPECS
Direct Drive: ½ - 3HP 1150-1750 RPM
Gear Drive: ½ - 3HP 230-350 RPM
Batch: 55 gallons (typical)
Shaft Length: 30" FMB
Drum and Tote Mixer Options:
TOTE STYLE FOLDING IMPELLERS DESIGNED FOR LIMITED-ACCESS VESSELS
2" DRUM BUNG FOLDING IMPELLERS DESIGNED FOR LIMITED-ACCESS VESSELS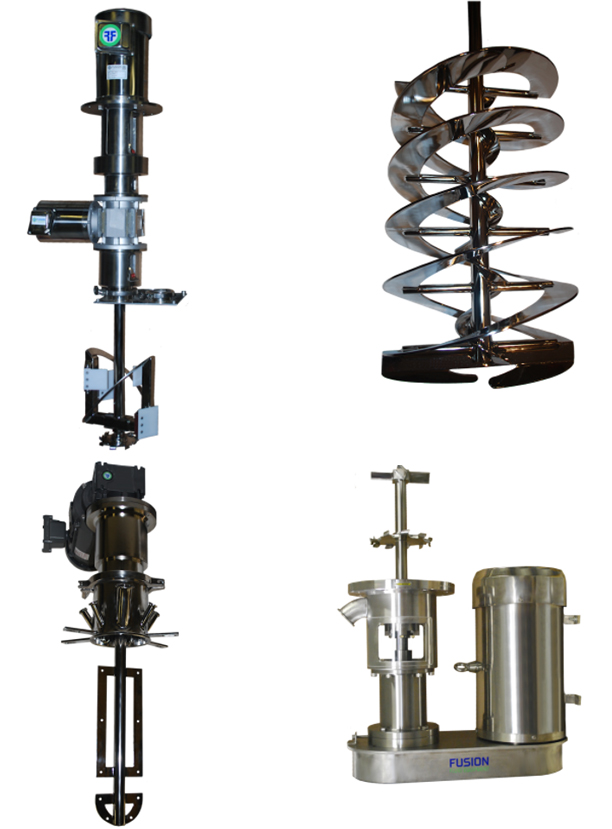 Custom Mixer Configurations
Fusion Fluid realizes that every application is different. They also realize that not all applications can be handled with standard mixers. This is why we are pleased to offer customized solutions for those who have specific process needs.
When you need custom engineered equipment for your specific process, you want Fusion Fluid. Offerings span a wide range from highly customized mixers to our standard mixers that have been modified and accessorized.
EXAMPLE APPLICATIONS
High Viscosity Mixing
Sanitary & BioPharm
Special Process
Chemical Resistance
Automation
SPECS
Direct Drive:1/40-100HP 870-3600 RPM
Gear Drive: 1/20 - 100HP 4-720 RPM
Batch: As Req'd
Shaft Length: Up to 360"FMB