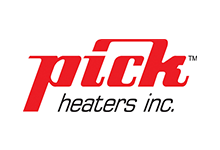 Pick Heaters developed and patented the unique concept of direct steam injection heating. Pick Heaters serves a wide range of industries including food, chemical, pharmaceutical processing, pulp and paper and power plants. Pick's BX heater's open design allows slurry flow without obstruction, at negligible pressure drop which can be used for industrial starch cooking and slurry heating. Located in West Bend Pick Heaters has deep roots in Wisconsin.
Pick Direct Injection Steam Heaters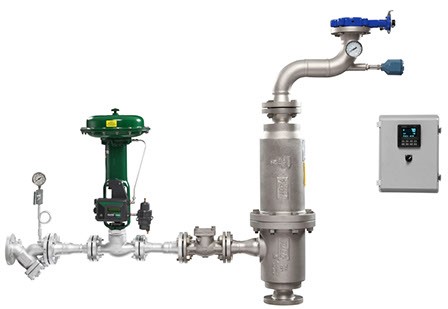 Constant Demand Steam Injection Heaters
The Pick Constant Flow Heater is used wherever a relatively constant flow of heated liquid at a precisely controlled temperature is required.
It is ideal when the flow rate is fixed or varies over a narrow span (3:1), or where variations in flow are gradual and on/off cycling does not occur.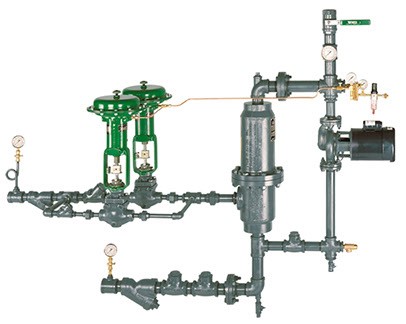 Variable Demand Steam Injection Heaters
The Pick Variable Flow Direct Steam Injection Heater is designed to deliver hot water at a precisely controlled temperature over a wide range of water flows. It will also reliably supply hot water for applications with frequent start-stop cycles, such as hose stations.
The Pick Variable Flow Heater is ideal as a central utility heating system for multiple use points such as wash-down stations, and plant sanitation.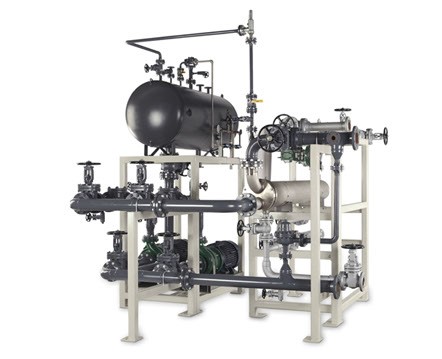 Pick Custom Design (PCD) Heat Transfer Skids
Pick offers options for packaged systems of our steam injection systems or other methods of heat transfer.
Pick Direct Steam Injection Packaged System components are integrated to meet the requirements for heating jacketed reactors and kettles, liquid-to-liquid exchangers, rotary vacuum dryers and blenders, plate and frame heat exchangers, pasteurizers, CIP systems and other applications.
The total flexibility of our Custom Heat Transfer Packaged Systems saves you time and money with safe, reliable packaged heating. We design, package and service a system that arrives ready to connect at your plant.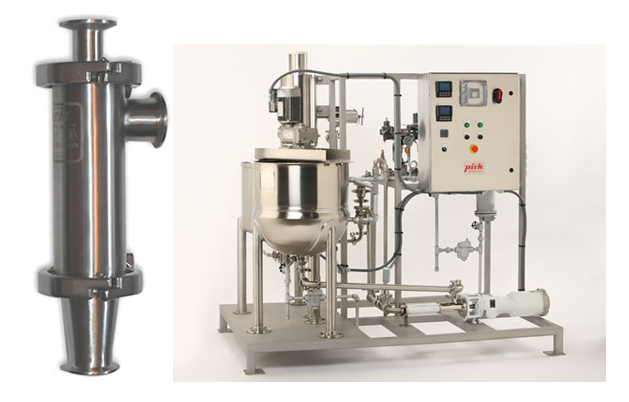 Steam Injection Sanitary Heater/Jet Cooker
The Pick Sanitary Heater/Jet Cooker is the preferred choice for in-line product cooking, CIP or nitrogen injection. Pick heats or cooks any water miscible liquid or slurry instantly on a continuous straight through basis. It can also handle slurries containing bite sized pieces such as salsas or stews with piece integrity retained.
Pick has the only Sanitary Direct Steam Injection system that achieves set point temperature on demand with a non-shearing action. Forget the inherent process inefficiencies and maintenance headaches of traditional batch cooking.
Pick Direct Steam Injection allows you to heat in-line, with precise temperature control and 100% energy efficiency.
Pick Sanitary Heaters/Jet Cookers carry the 3A symbol. The 3A symbol certifies the heater is in regulatory compliance for any food or dairy application. All product surfaces are 316L Stainless Steel with #4 sanitary polish. Tri-clamp® connections are standard, and other connections are available upon request. The entire unit disassembles in minutes for routine cleaning.