Unibloc-Pump proudly offers premium sanitary pumps, strainers, and valves. Their goal is to combine the highest grade sanitary products with an uncompromised commitment to customer service. Unibloc wants every customer doing business with them to view the experience as enjoyable and hassle-free. They stock over $3 million dollars of pump inventory and offer price competitive products with an expedited delivery out of their Marietta, GA facility.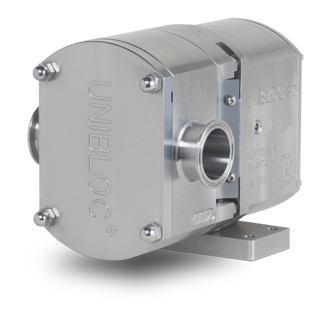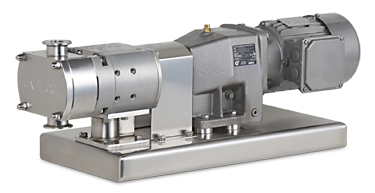 PD Lobe Pump
The UNIBLOC-PD rotary lobe pump has set the industry standard for high performance sanitary pumps. With the fully machined gearbox at its core, the UNIBLOC-PD's compact design offers a solid foundation for reliability and durability in the field. Available in multiple sizes, the UNIBLOC-PD provides solutions for a wide range of demanding applications. The precision-engineered components deliver smooth, low shear performance while maintaining product integrity. Our signature seamless design and crevice free pump interior form the cleanest CIP/SIP capable pump in the industry. The UNIBLOC-PD line is the premiere choice in sanitary pumps.ures up to 8 bar.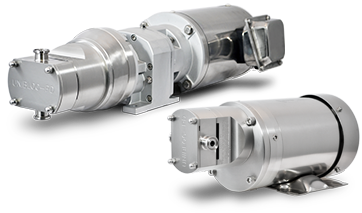 GP Gear Pump
Smooth flow, reliability, effortless maintenance… these features are the foundations for the UNIBLOC-GP series of gear pumps. With its precision-machined gears, the UNIBLOC-GP produces virtually zero-pulsation flow with uncompromising accuracy. Built with the same rugged design as the UNIBLOC-PD, the GP Series offers solid construction for worry-free dependability. The GP Series features our signature QuickStrip™ design, requiring no tools for maintenance, making it the most serviceable gear pump in the industry.p's economical operation.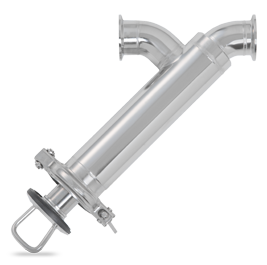 Y-Strainer
Unibloc Y-Strainers combine sanitary design with functionality resulting in an easy to use, easy to clean strainer. Features such as bi-directional flow and the strainer's ability to mount in 360 degrees enables endless versatility. Composed of only three parts, the simple design ensures hassle free cleaning. Their new High Capacity Series allow for higher flow-rates, viscous products, and more efficient straining. Unibloc offers the widest selection of quality sanitary strainers on the market.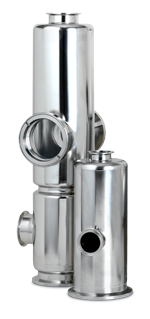 L-Strainer
Built on the same dependable foundation as Unibloc's Y-Strainers, Unibloc L-Strainers offer a 90 degree configuration. Their L-Strainers are available in standard capacity and high capacity models.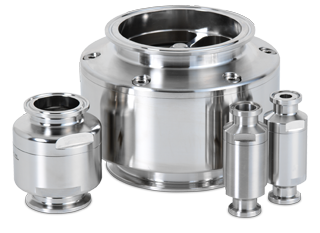 Sanitary Check Valve
Unibloc Check Valves use a time-tested design to guarantee effective, positive sealing. The fully machined stainless housing and seamless ports further confirms their our commitment to sanitary design.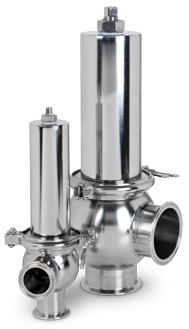 Sanitary Pressure Relief
The Unibloc Pressure Relief Valve utilizes our SimpleSet™ design allowing a fully adjustable pressure range. The straightforward and hygienic design has made this valve the premier choice amongst sanitary pressure relief valves for over 25 years. Fully adjustable with pressures ranging from 5-200 psi, the Unibloc Pressure Relief Valve combines versatility with an easy to operate design.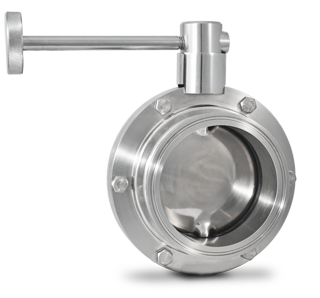 Sanitary Butterfly Valve
Precision machined from solid stock, the Unibloc Butterfly Valve is designed to meet the demanding applications of the food & beverage, pharmaceutical, and many other sanitary industries.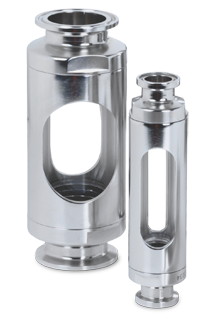 Sanitary Sight Glass
Unibloc Sight Glasses offer stainless steel construction, electropolished components and fine surface finishes as standard features. Available with glass or acrylic tubes, our Sight Glasses are well suited for the Pharmaceutical, Biotech, Food & Beverage, Chemical, and Personal Care industries.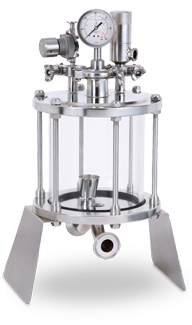 Sanitary Bubble Trap
By combining ultra-clean components with simple, straight forward design, Unibloc's Bubble Traps have become "the" standard in the Pharmaceutical and Biotechnical fields. Electropolished surfaces, USP Class VI Elastomers, and Comprehensive Documentation Packages are standard features on all Unibloc Bubble Traps. To accommodate specific application requirements, Unibloc's bubble traps are available with custom port sizes and configurations.